GPS Fleet Tracking System for Phones
Field Service Management and Vehicle Fleet Tracking with Android Cell Phones


Track your Fleet, Vehicles and Workforces with EverTrack GPS Tracker app!
We have developed our Online GPS fleet tracking system for companies to lower the workload on their dispatchers and to simplify field services. Our telematics system helps controlling your company's vehicle fleet, assets or field services and assists you solving your usual management tasks, like how to share the location of your fleet or workforce with business partners. With help of our Online GPS tracking system and EverTrack GPS Tracker app you can use your Android cell phone as a real-time GPS tracker.


EverTrack - GPS Tracker app for Android Cell Phones
With the help of EverTrack GPS tracking app you can use any Android cell phone or tablet as a GPS tracker. The application is fast, simple and efficient, no matter if you're using it for vehicle telematics, fleet management, vehicle tracking, location sharing or field service management. The Android GPS Tracker application increases the efficiency of the team while decreasing your expenses.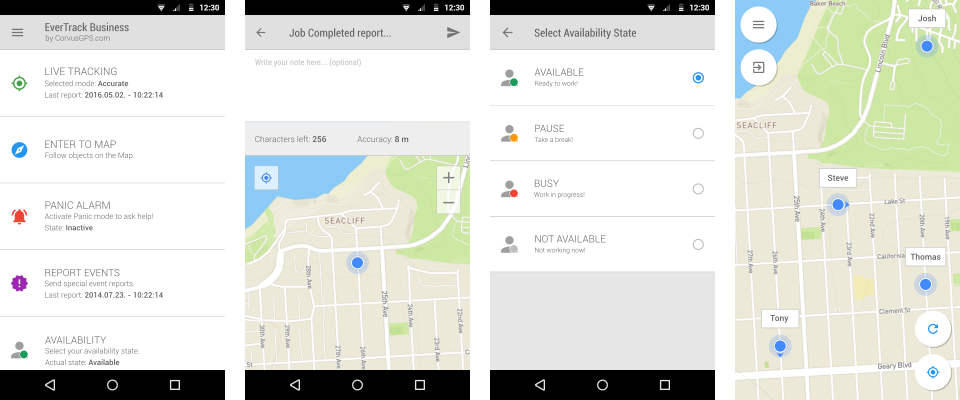 For Drivers and Field Services
Thanks to its different reporting modes and intelligent power management, the Android GPS Tracker app is capable of both vehicle tracking, fleet tracking and field service management tasks. While the phone is being charged you can track the movements and positions of drivers and on battery power it optimizes the report intervals so that it can provide continuous tracking all day, even without charging.

The EverTrack Android GPS tracker app developed for cell phones and tablets is more than a simple GPS tracker: it helps your team members track each other's movements, report to dispatch about their availability, share location info with business partners and can signal the completion of - or if there has been an issue while working on - a particular job. Help the work of your team and increase their efficiency with our modern fleet management solutions and Android GPS tracker app.

Online GPS Fleet Tracking Software
CorvusGPS.com's online GPS Fleet Tracking web application works in real-time without the need to install any requirements: a web browser and a broadband connection is all you need. All of your data is stored in a secure cloud. Our fleet tracking system enables the real-time tracking of your workforce, with the option to see past routes as well or to share location with anybody without registering.

Our GPS tracking and mapping application can be installed on tablets and cell phones to stay connected with your fleet on the go. The mapping software is optimized for mobile devices and it's easy to use on cell phones.



Your data is in Safety - SSL Certified Connection
Regular HTTP connections are insecure: all communications sent through this type of channel happen in plaintext, that is without any kind of encryption. What this means is that any attacker that manages to tap the channel between your web browser and the destination of messages can read all of the communication. To battle this, we use secure HTTPS connections, which are securely encrypted. So the next time an intruder manages to break into your channel he will not be able to read any of the communication between you and our servers.




Share Location with Business Partners
Share the location of vehicles and coworkers with your clients or business partners easily with our real-time location share function. With CorvusGPS.com's online GPS tracking system you can simply share location of a whole fleet or a nearby coworker with anybody. During the location share process, our GPS tracking system generates a link, that you can share via e-mail, on your website or any other way, like social media.


Anybody in the possession of the link can track the shared object (group, vehicle, worker) in real-time, without registering. By knowing the location you provide, your clients and business partners can prepare for the arrival of your colleague, accelerating and simplifying the workflow and liberating you from the unnecessary phone calls regarding the estimated time of arrival and the location of your colleagues.

EverTrack & Traditional GPS Trackers
In case of mobile asset (containers, construction equipment, building tools, etc.) management and vehicle tracking you may run into issues by using only the EverTrack application, as it is sometimes crucial to use traditional GPS trackers. The online GPS Fleet management system by CorvusGPS supports a wide variety of traditional GPS trackers, providing you with the possibility to track your vehicles, mobile assets or workers in real-time, even with traditional GPS tracking devices.



Traditional Workforce, Asset and Vehicle tracker
To begin managing your team or fleet, simply add them to the system provided by CorvusGPS. Our online GPS Fleet tracking system provides a flexible solution for workforce tracking, vehicle tracking and fleet telematics purposes. The EverTrack GPS Tracker application developed for Android phones can be used as a workforce and vehicle tracker, but our GPS tracking system is compatible with many hard-wired vehicle trackers and battery operated personal trackers, as well as with GPS trackers designed specifically for asset tracking.



Start Tracking Now!
Register a Free account and join our community!

Register and Start Tracking in Seconds!